How to Network Without The Icky Factor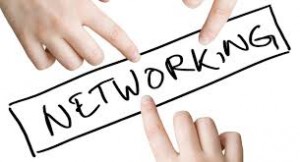 Does the idea of "Networking" conjure visions of eating bad canapés and lurching from one uncomfortable and superficial conversation to the next?
Have you ever attended a "Networking" event and felt like everyone was just in a big race to see who could hand out the most business cards first?
I have. And that is just plain "Icky."
In fact, a scientific study recently featured in the Harvard Business Review has proven that professional networking actually makes people feel dirty.
Yep, seriously… it makes people feel physically dirty – like they want to take a shower afterwards!
Researchers suggest this is because we generally think about morality in terms of cleanliness and most of the time, professional networking feels very "contrived" and it increases people's feelings of inauthenticity and immorality (hence the whole "feeling dirty" thing).
That's why, even though we HerBusiness gives members loads of opportunities to connect with others  – we are definitely NOT about that kind of "Icky" Networking.
We showed that kind of networking the door years ago. What the same study DID find is that Networking had a positive association with job performance.
That means, whilst it can be great for your business in terms of winning new business, making useful connections and expanding your reach, most of the time you're going to feel pretty uncomfortable with it.
So, how can you get all the benefits of networking without the "icky-ness" factor?
Look for organisations that offer alternatives.
Instead of hyped up, short term meet and greets, seek out interactions that have depth, authenticity and a good dose of practical advice and humour thrown in.
You'll be creating relevant and vibrant connections with other business owners who will be good for your business – either as valued clients, suppliers or cheerleaders.
I like to think of the word network means "support team".
Look for networks low on "Icky" and high on real conversations, solid advice and wholehearted support.
I like the way that Corryn Barakat of Milk and Love explained a meeting that she really liked…
"It's the most grounding and invigorating forum I've attended as a Small Business Owner. All of the attendees provided useful points of view I hadn't previously considered, and the size of the session means it felt intimate – like a group of your best friends getting together over coffee!"
So, look for a community where you can get real, valuable support from like-minded business owners.
Suzi Dafnis is the CEO of HerBusiness, which teaches women business owners how to market, operate and growth their business. Learn more at herbusiness.com/about